Financing Issue of Indian Solar Industry
In India, we have car loans, education loans, home loans, but we don't have direct options for solar loans.
India is at a crossroads, where the country's economic growth and residents' well-being are dependent on energy access. India's energy demands will be heavily reliant on clean and renewable sources, given the global debate on climate change and the country's own Nationally Determined Contributions. Nearly 15% of India's 1.39 billion people are projected to be without power, and millions more are likely to be living in the dark even in areas that have been designated as "electrified."
The Indian government stated in April 2018 that all villages in the country had been "electrified," but this does not imply complete electrification. If 10% of a village's residences and public spaces are connected to the grid, the village is deemed electrified. In reality, only about 8% of newly electrified villages had all of their homes powered, and less than half of all village households in India have access to more than 12 hours of electricity every day. Indians are energy-starved, with an average power per capita usage of 1,181 kWh, one of the lowest in the world, and demand greatly outweighs supply.
After China and the United States (US), India is the world's third-largest emitter of greenhouse gases, and it will likely remain so for the next two decades. Despite exponential development in renewable energy, nearly half of India's power generation will be based on coal by 2030, according to government figures. The power industry will account for over 80% of India's total carbon emissions by 2040.
India's top concerns include ensuring energy security and decreasing emissions, primarily by reducing reliance on hydrocarbons. The Indian government established a goal of adding 175 GW of renewable energy capacity by 2022, with 100 GW coming from solar, 60 GW from wind, 10 GW from bio-power, and 5 GW from small hydropower.
The total investment required to achieve this target has been estimated at US$150-200 billion. In his address to the UN Climate Action Summit in September 2019, Prime Minister Narendra Modi announced that India would take the overall target to 450 GW, requiring significantly huge investments. The overall investment required to meet this goal is projected to be between $150 and $200 billion. Prime Minister Narendra Modi declared in September 2019 at the UN Climate Action Summit that India would increase the overall objective to 450 GW, requiring considerable investments.
In this article, we are going to explore how platforms like GooglePay, PhonPe, and companies like Paytm can solve the Indian Solar Financing issue.
Present Scenario of Indian Solar Financing
(Here we explore the Off-Grid Solar Solutions as govt provide subsidy to the on-grid solar only)
To understand the present scenario of getting financial help for solar solutions (only Off-Grid), you have to divide the whole possibilities into two parts: Direct Financing & Indirect Financing.
If we see Direct Financing in the solar industry, there is zero support available. Not a single brand like Canadian Solar, Luminus Solar, RenewSys Solar, etc. is having any loan facility for their consumers.
In India, you can get a loan against any product via bank or micro-financing companies like bajaj finance, tata capital, and many more but if we see the solar industry, we don't see any such collaboration (between solar companies and micro-financing companies).
Now, if we talk about Indirect Financing, there are some options available like purchase solar solutions on EMI (Debit & Credit Card), and home improvement loans.
Loan with Credit Card
The consumer would require Credit Cards to purchase solar solutions on EMI.

If we look at the average total value of credit card holders, we can see that just 50 lakh people (about 1% of the population) have credit cards that allow them to pay for solar system installations via EMI. As a result, for most individuals, EMI is a less than viable option for solar installation.
Loan with Debit Card
Now if we see the debit card scenario, around 80 to 85% of the population of 1.39 billion has a bank account. Only 80 million Indians have bank cardholders, with roughly 30 million of them having debit cards. Only a few banks offer EMI on any purchase via debit card and that too depends on the customer's monthly card use.
Home Improvement Loan
In-home improvement loans, few banks, such as the State Bank of India, offer home improvement loans that can be re-purposed to solar loans. The interest rates differ depending on the policy of each bank. This home improvement loan has a limit of up to Rs.1 lakh only.
1 lakh is not sufficient for a solar solution.
On On-Grid Solar Solution, the consumer gets the subsidy & other facilities also, but in Off-Grid Solar Solution, there is no subsidy offered by either central or state govt to the consumer. The off-grid solar solutions price is also very high in comparison to the On-Grid solar solution. That means, there should be some financing options available for Off-Grid Solar Solution, so that, it could be more helpful to the consumer & motivate them to purchase it.
And this is one of the biggest reasons why the off-grid solar (residential) market is declining.
GooglePay, PhonPe, Paytm
First of all, we need to understand this, what do companies like GooglePay, PhonePe and Paytm do and how they help in growing any business sector. These companies are registering the user by their bank details & verify it (virtually & physically both). After the verification has been done successfully, it creates a UPI ID (Unified Payments Interface). This Id is unique for every user. With this ID, users can pay or receive the money directly in their bank within seconds.
To create this unique ID, the user fills in every important detail of this application. That means these applications have all the verified data of the consumer. At present, the maximum number of bank holders (including businesses) have UPI DI either they have Debit / Credit cards or not.
And if we analyze all the data these companies verify, that's exactly the same as what the loan providers verify. In addition loan providers also verify the monthly transaction of the customer while these companies already have that information. Even these days many consumers are paying electricity bills through UPI. That means these platforms have not only monthly transactions details, but also have the data of monthly consumption of the electricity of every user.
Phonepe has more than 300 million registered users and over 125 million monthly active users.
GooglePay has more than 100 million users.
Paytm has over 150 million monthly active users.
Name of

UPI APP

No of

Transactions

(in Millions)

Amount

(in INR Crore)

Google Pay
905.96
1,90,106.71/-
Paytm App
372.7
41,469.53/-
Axis Bank App
80.52
747.46/-
Amazon Pay App
49.12
4,272.47/-
Yes Bank App
22.81
5,120.17/-
BHIM
22.26
6,886.78/-
Indian Digital Payment Data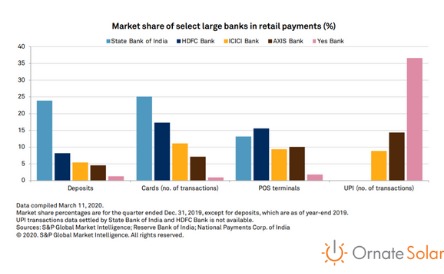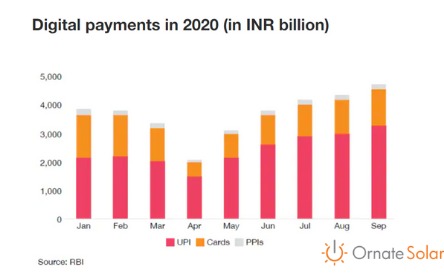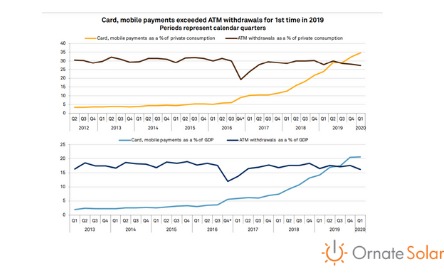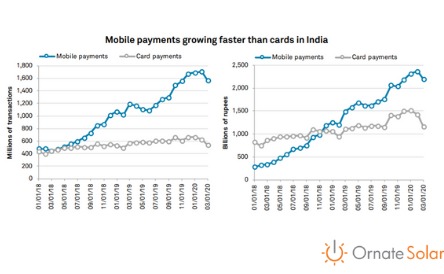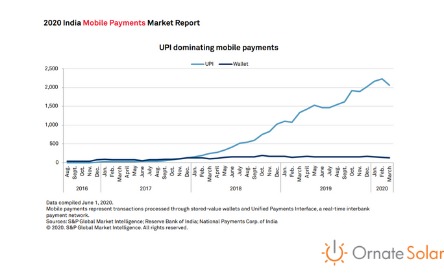 Note: All graphical data is taken from RBI financial reports.
Financial Solutions by These Platforms
If we analyze the problem statement mentioned above and what service these platforms provide, we can understand that these platforms can fill that gap. These platforms have all the information required to grant a loan against a solar solution purchase. Moreover, these platforms can analyze the customers to design custom EMI for every individual based on their monthly transactions & their monthly electricity bill. Although Google Pay and Phonpe are just financial transaction platforms, but Paytm has Paytm Bank. So if all these 3 platforms collaborate, they can provide the financial solution to the end-user for their solar requirements.
It's not like they would be doing this for the first time. These platforms do provide financial processing services to multiple companies. We do see many company's ads on Phonpe.