Gujarat is India's sixth-largest state by land and ninth-most populous, with a population of more than 60 million people. It is one of India's most rich and well-run states, as well as a leader in the country's energy sector. It is a state in which both villages and cities have access to electricity 24 hours a day.
The state is also breaking new ground in the field of renewable energy (RE). This western Indian state produces 13% of India's renewable energy portfolio, with more than 10 GW of capacity. In addition, it is the country's leader in solar rooftop installations. Finally, renewable energy accounts for over 37% of Gujarat's total energy capacity.
To meet its electricity needs, the state is increasingly relying on renewable energy. As of June 2021, it had a total installed renewable energy generation capacity of 13,152 MW (solar, wind, hydel, biomass, and bagasse). Wind accounts for more than 70% of this total. Gujarat's outstanding performance is due to progressive policies that include several incentives, an investor-friendly attitude, strong governance and implementation, and a well-thought-out strategy. The state offers concessional incentives, has a good evacuation infrastructure, and a clear e-bidding process, in addition to having a good RE potential and an appealing policy climate.
The establishment of a 30 GW solar-wind hybrid park on wasteland is just one of the state's numerous firsts. With a goal of over 15,000 MW by 2022 and over 60,000 MW by 2030, the state promises a lot of renewable energy action in the future years.
Renewable Energy Capacity Addition:
When it comes to overall solar capacity deployed, Gujarat has been leading the way. The state was ranked 6th among the top 10 states in India with the most installed solar capacity as of mid-2019. From roughly 0.3 megawatts in 2010 to around 368 megawatts in 2019, the state has steadily increased its rooftop solar capacity. Similarly, the state's utility-scale capacity has grown from about zero megawatts in 2010 to around 2000 megawatts in 2019. This increase in capacity reflects the state's increased need for solar energy, which justifies the benefits they receive.
The state is increasing RE capacity through a variety of routes. Competitive bidding is one method, while rooftop solar is another. Other strategies of increasing RE capacity include state government initiatives such as establishing solar projects near GETCO substations, state government schemes such as Suryashakti Kisan Yojana, and solarization of the Modhera sun temple, and the development of Gandhinagar as a solar city.
Upcoming Solar Project in Gujarat
To increase renewable electricity generation, several new megaprojects are being constructed around the state. Prime Minister Narendra Modi lay the foundation stone for a 30,000 MW hybrid (solar and wind) renewable energy facility in Kutch last December, claiming it to be the world's largest of its kind. The park is larger than other Indian cities, covering 72,600 hectares. The project is expected to bring in Rs 1.5 trillion in investment. Because the windmills are located along the India-Pakistan border, border security is likely to improve. The park will help India reduce per capita carbon emissions while also creating a large number of job possibilities.
In addition, four electricity distribution companies connected with the state-run Gujarat Urja Vikas Nigam Ltd (GUVNL) recently inked power-purchase agreements (PPAs) for 3,979 small-scale solar power projects (0.5-4 MW) totaling 2,500 MW. These projects, which are expected to be completed in the next 18 months, will result in a Rs 100 billion investment in green energy-related industries.
Many new renewable energy projects, both wind and solar, are being developed through competitive bidding. Ultra-mega solar parks and non-parks are among them. Dholera, near Ahmedabad, as well as Raghanesda and Harshad in Banaskantha, are developing solar energy parks. Gujarat is also working on several additional solar and wind energy projects that the Solar Energy Corporation of India is auctioning off.
Reliance Industries Limited (RIL), India's largest commercial conglomerate, has announced a major foray into the renewable energy sector, including generation and equipment production. According to the firm, 100 GW of solar energy would be installed in India by 2030.
Jamnagar would also be home to a 5,000-acre Dhirubhai Ambani Green Energy Giga Complex. It will have four giga-factories that will produce solar photovoltaic modules, energy storage batteries, fuel cells, and electrolyzers.
RIL plans to invest Rs 600 billion in these projects over the next three years. It would also spend additional Rs 150 billion on infrastructure and utilities to facilitate the fabrication of ancillary materials and equipment for the Giga plants.
Gujarat is also establishing itself as a leader in the field of renewable energy production. Adani Solar, India's largest solar cell and module maker, is boosting its manufacturing capacity from 1.5 GW to 3.5 GW in tandem with RIL. Other enterprises, such as Goldi Power in Surat, are expanding their capacities as well.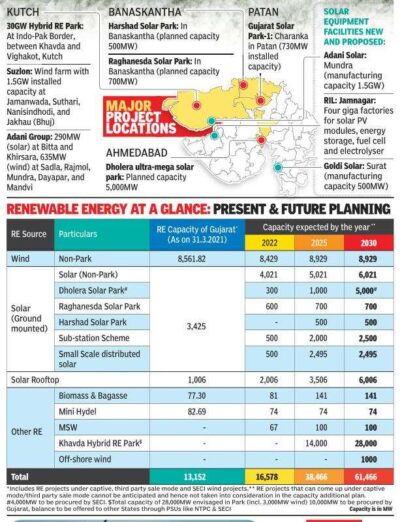 Gujarat's Commercial and Industrial Solar Policy
A favorable solar policy is essential for companies to realize the benefits of solar investment. Gujarat, in particular, has enacted such a policy. Commercial and industrial businesses in the state can export excess energy generated by their solar system into the grid at a defined solar tariff thanks to the net-metering option available under the state's solar policy. Businesses in the state may also take advantage of 40 percent accelerated depreciation and a 10-year tax break on solar projects under the scheme. All of this adds to the savings and benefits that solar may provide for businesses in the state.
You can Download Solar policies 2021, here
How Can We Help?
Hope this information about "Why is Solar Businesses Worth in Gujarat State" helps you.
If you are planning to start a solar business or install a solar solution, you can connect with Ornate Solar to get the best assistance with the best prices for solar panels and inverters. We are the official partner of Canadian Solar panels & Renewsys solar panels in India. We are also the official distributor of SolarEdge inverters with DC optimizers, Enphase microinverters, Fronius On-Grid Inverters, and Havells solar inverters in India.
For more information, please give us a call at 011 4353 6666.